About Us
Tony Granger, CPA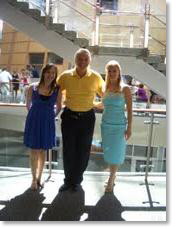 Tony is the principal founder and Managing Director of Access Financial. Tony has devoted close to 30 years to the recruiting profession and has generated well in excess of $38 million in job offers during those years. A proud father of two, Tony has dedicated himself to counseling and assisting thousands of professionals, clients and fellow recruiters in the financial/accounting industries. Tony's previous financial background included several years at KPMG, as well as private industry experiences at Citicorp and Marsh & McLennan. Tony possesses a degree in accounting from St. John's University, and is a former CPA in the State of New York. He is also a member of the American Institute of CPA's and Connecticut Society of CPA's. Tony is an avid golfer, a personal fitness trainer and International Indoor Rowing competitor (consistently ranked top 10% worldwide in age bracket).

Meet some of our affiliates:
Ted Smith spent his initial 10 years in recruiting as an Associate Director at Access Financial and now independently owns, operates Access Financial Search, a candidate procurement firm with nationwide reach and capabilities. Ted can be reached at: tedsmith@accfin.com and via LinkedIn.
Tony Glennon is the Managing Partner and President of GSP International, New Jersey's Leading Accounting and Finance Search Firm. The 2 "Tonys", Glennon and Granger have known each other for close to 30 years. GSP provides excellent additional coverage for the New Jersey and NYC markets. Tony Glennon can be reached at: tglennon@gspintl.com and via LinkedIn.
Murray Birnbaum is the Managing Director of Murray Associates. Murray and Tony Granger began their recruiting careers at adjoining desks in Wall Street some 30 years ago and have maintained a healthy partnership ever since. Murray's firm provides excellent coverage with respect to NYC candidates and clients particularly in the public accounting realm. Murray is reachable at: murray@murrayassociatesny.com and at LinkedIn.
Scott Williams is President of The Executive Register based in Danbury, Ct. Scott has been owner/operator of this very successful IT, Finance and Engineering recruiting concern for over 33 years. Scott can be reached at: swilliams@exec-reg.com and at LinkedIn.
David Gilinsky CPA (NP) is a Managing Partner with Searchline Services, Inc. Tony brought Dave into the recruiting industry about 14 year ago and Dave now manages a very successful financial recruiting practice out in the Columbus, Ohio area. Dave can be reached at: gilinsky@searchlinejobs.com and at LinkedIn.